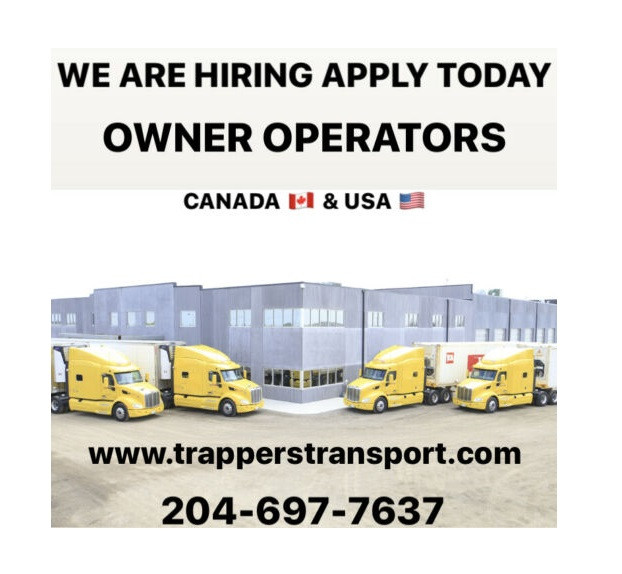 Our goal is to onboard long-standing, safety conscious professional drivers to join our family. We are Currently Hiring Owner Operator for our US Reefer Fleet! Consistent miles! New Business with dedicated lanes. Consistent home time for Manitoba based operators.
US Miles Premiums please inquire for more details, good opportunity for New Owner Operators
We require:
Minimum 21 years of age and able to travel internationally.
Valid Commercial Driver's License: Class 1 with air brakes
Minimum verifiable 2 years work experience driving a tractor trailer with 200,000 miles , which includes 1 year Canada/US border crossing experience supported by a FAST card/ passport.
Current Commercial Drivers Abstract.
Must provide a list of previous and current employer(s) for use as references.
Must have at least 2 years BC mountain experience.
Clear criminal record search (current within 90 days, or receipt of purchase)
Hauling 53″ Reefer considered an asset.
Hauling Container with Genset considered an asset.
Familiar with e-logs consider an asset.
Fluent in English both written and oral.
We offer:
Competitive pay package.
Mountain premium
Additional premiums based on certain U.S. loads $100-$300.
Safety Bonus
All picks and drops paid
Paid tolls and bridge crossings
Paid border meat inspections
Paid border crossing
Benefit package: travel insurance coverage on day 1
No charge satellite communication device
Bi-monthly direct deposit pay Company decal package
WCB premiums paid
Low $2500 deductible
Driver referral program
Paid driver orientation program
On site service center
On-site fuel
On-site manual truck and trailer wash
On-site automated truck-wash ($15 to owner operators)
State of the art driver lounge with satellite television, laundry, showers, kitchenette, and private rooms
How to apply: Visit our website
https://trapperstransport.com/careers/
Email resume and request application at
Recruiting@trapperstransport.com
or call:
1-800-561-9696 ext 7637
___________________
View original article here Source