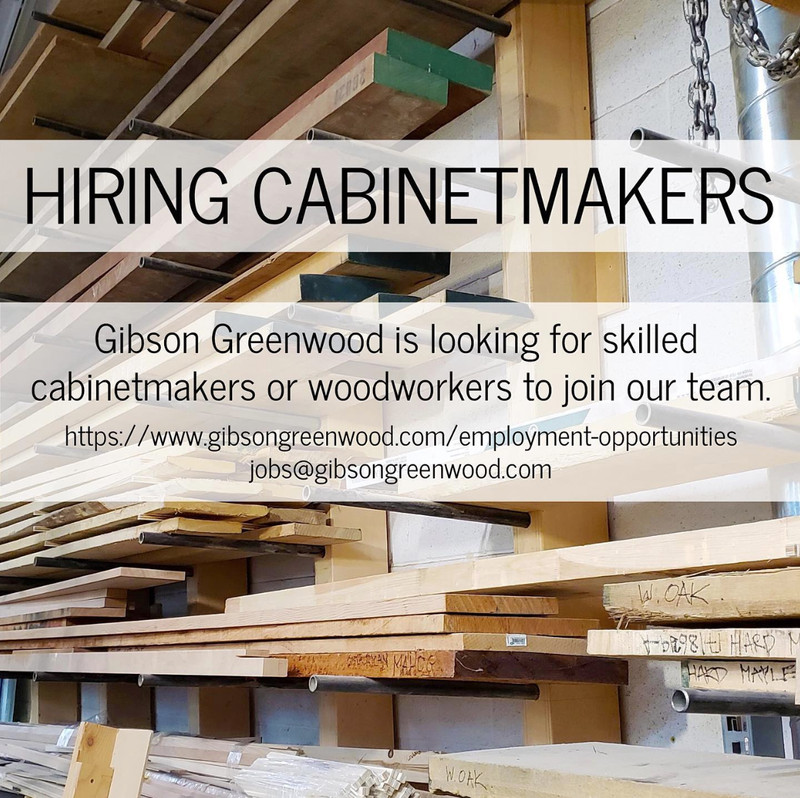 Gibson Greenwood, centrally located near Bloor and Lansdowne, is a boutique custom fabricator of architectural millwork, luxury cabinetry, and fine furniture. We've been in business for over 21 years, working with some of the leading architects and interior designers in Canada on award winning projects.
We are looking for an experienced cabinet maker to join our 15-person fabrication team.
The right candidate will have the following attributes:
– Sensitive to the small details with an ability to work methodically through complex builds
– Finds satisfaction from producing high quality work and problem solving
– Enjoys working collaboratively with others, whether lending a hand or asking for help
– Excellent communication skills
Qualifications:
– Minimum of five years of experience working in a cabinet/millwork shop
– Thorough understanding of cabinet construction methods and common door/drawer hardware
– Very comfortable reading and working from technical drawings
– Excellent hand tool and machine skills with the ability to safely and confidently operate basic woodworking machinery like jointers, planers, table saws, and band saws
– Knowledgeable working with solid wood, veneer, and laminates
– Able to lift up to 50 pounds and work in a physically demanding shop environment
– Comfortable working in millimetres, performing basic math, and measuring/marking to accuracies greater than 1mm
We offer:
– A bright, spacious centrally located shop (10-minute walk from Lansdowne subway)
– Regular work hours (overtime or site work are both very rare occurrences)
– 3 weeks vacation per year
– Competitive compensation with a guaranteed cost of living annual increase
– Varied and interesting projects in a well-equipped shop
– An opportunity for growth and advancement
– A workplace philosophy centered on continuous process improvement that solicits and values input from everyone
Gibson Greenwood is committed to supporting diversity within the trade and to fostering an equitable and inclusive workplace. We welcome and encourage applicants from equity seeking groups, including cis and trans women; other trans, gender diverse, Two Spirit and LGBQ individuals; Black, Indigenous, and people of colour, members of immigrant, and refugee communities; and folks who identify with disability. Accommodations are available on request for candidates taking part in all aspects of the selection process.
We thank all applicants for their interest in joining GG. We request that you do not follow up your application with a phone call. We will only contact those candidates selected for interviews. Thank you for your understanding.
___________________
Gibson Greenwood Inc
View original article here Source