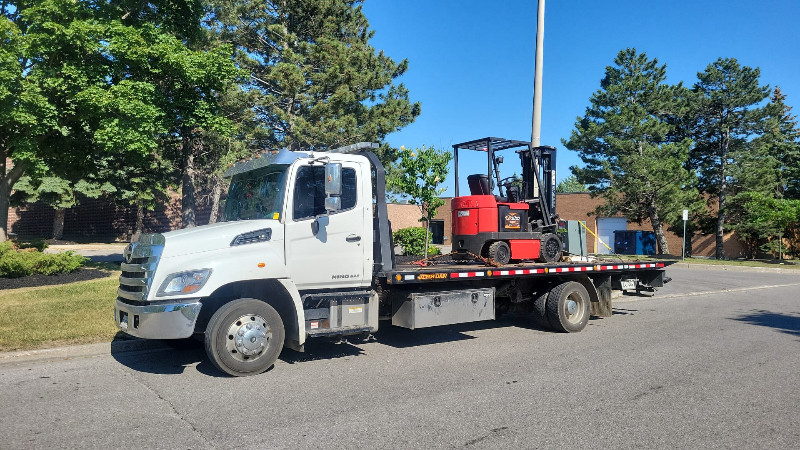 DRIVER – D / DZ LICENSE – EXPERIENCED FLATBED TOW TRUCK DRIVER NORTH YORK
MON-FRI 10AM-10PM
$25/HR EXPERIENCED FLATBED TOW TRUCK DRIVERS ONLY
HOURS: 10AM-10PM
EQUIPMENT: BRAND NEW FLATBEDS IN OUR FLEET | HINO 258 | FREIGHTLINER M2-106 EXT CAB
A successful candidate will be physically fit, as the job can be physically demanding; have experience in towing various loads with a flatbed: Vehicles, Commercial Equipment, Construction Equipment, Etc. We are looking for clean, detail oriented and mechanically inclined individual, who will take care of his equipment.
Our trucks are very clean and well maintained. We want to keep it that way.
What we Do:
Auto Heaven is an Auto Recycling company located in North York. We specialize in the removal of old cars from customer properties as well as transporting commercial equipment and various loads. Our service area is within apx 100 km radius from our Main Yard in North York.
NOTE: If you respond with Yo / hey / what's up / hey man or text me at 3 am, your message will be ignored
TEXT THE BELOW INFORMATION TO 416-828-55541 / DO NOT CALL
– CVOR ABSTRACT (PHOTO SNAPSHOT)
– PAST DRIVING EXPERIENCE (WHICH COMPANIES, EQUIPMENT)
Your may also email us at jobs@autoheaven.ca
View original article here Source