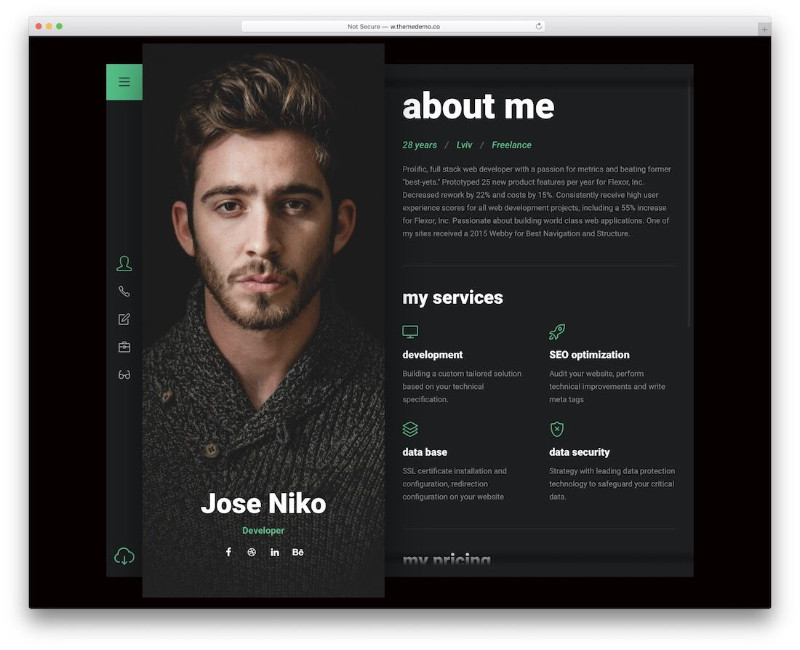 Making a cliche resume will waste everyone's time. We offer personalized websites with people's resumes and portfolios. We are a Toronto-based team of digital nomads with more than 12 years of experience in design, content creation, and web 2.0 and 3.0 development.
We provide you with a Personalized portfolio online. Create a customized website for yourself and your professional background to make an impact on anyone who already doesn't know you.
Basic page website – 99 CAD (Host, Domain, Personalized design theme, Dynamic and Responsive UI, Full SSL support, Personalized slide gallery, Google Analytics) – We can make it done within 6 hours.
With 200 CAD you get the following benefits:
Host and Domain for one year.
Responsive and Dynamic Themes – Look great at every screen size right out of the box, from phones to tablets to desktops.
Design, logo, and branding included. (business cards design)
Custom Domains and host for one year – Publish sites to any custom domains you like.
Full SSL support – Making your website reliable and secure.
Personalized email (sample@sample.ca)
Promotional video of your experiences or services.
Forms – Add contact, signup (using ActiveCampaign, Beehiiv, Buttondown, ConvertKit, EmailOctopus, GetResponse, Klaviyo, Mailchimp, MailerLite, Revue, SendFox, Sendinblue, and Sendy), custom, and payment-enabled forms.
Google Analytics – Add an optional Google Analytics tracking ID to each of your sites to track and report traffic.
No Ads – Publish sites without other brandings in the footer or ads.
You take the first step; we do the difficult work. Don't hold back. Oh, we forget. Get your website done within 36 Hours.
For more information, call or email. If we can handle your case, we'll let you know. We reject 20% of proposals because they make no sense. Ensure that you are aware of your needs.
View original article here Source