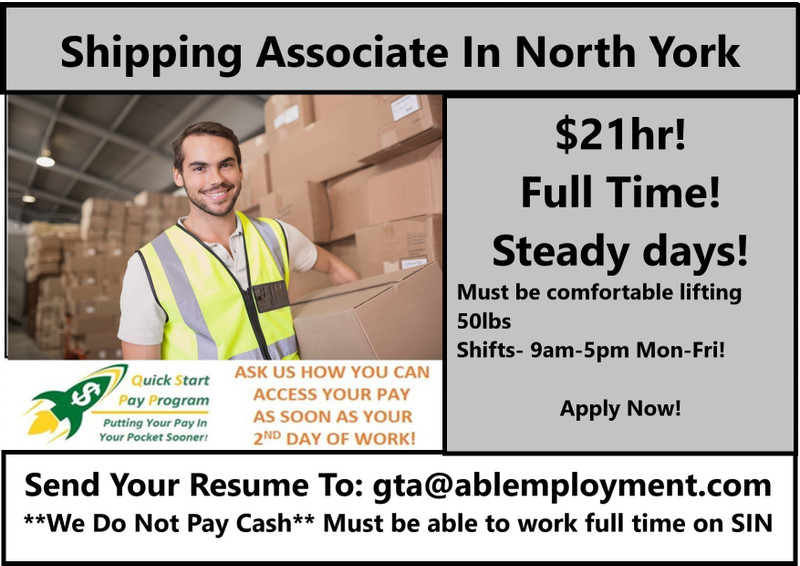 Shipping Associate Openings In North York
Full time long term! Must be able to work full time 40 hours on SIN
9am-5pm Monday-Friday
$21hr plus 4% vacation pay!
Weekly Pay!
Quick Pay Programs available! Get your first days pay on your second day of work!
$100 referral bonus! Invite your friends to apply!
Responsibilities:
Receive all shipments into Google Doc and check off packing slip to ensure all shipments are received and accounted for
Spot check Logo to ensure logo is correct.
Label each box
Inform Fulfillment and Programs team when inventory has come in and received so it can be properly placed and organized in the warehouse.
Scan all packing slips for record keeping.
Ship and arrange all out bound shipments
Handle day to day orders.
Keep production/knitting area and warehouse clean, organized and tidy.
DON'T WAIT – APPLY TODAY!
Please reply to this posting with a copy of your resume OR email your resume to gta@ablemployment.com
This will create a unique file for you in our system and a survey will be emailed and texted out to you. Once it is complete we will contact you.
___________________
Don't forget to 'LIKE US' on Facebook by visiting www.facebook.com/ablemployment To hear about upcoming job postings and important payroll or safety updates!!!
View original article here Source