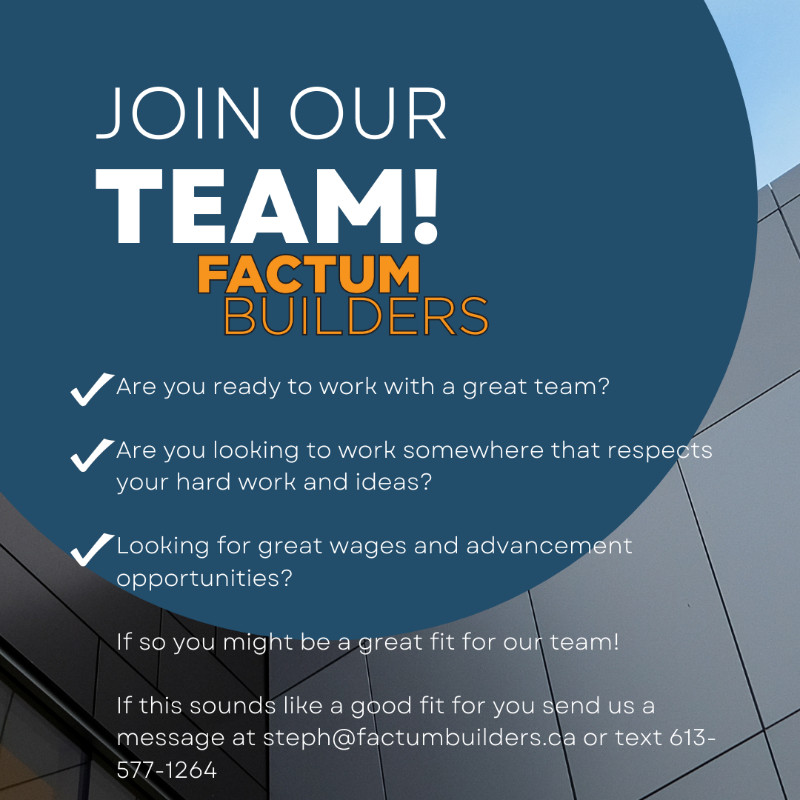 Hi!
A bit about us…
We are a family-run business that specializes in exterior finishing. We work primarily in the commercial market. We are a growing company looking to add another great team member to our family. If you think we might have what you are looking for let us know. More details below.
Reasons to make the jump!
– If you enjoy improving and excelling at your craft, we give you the tools and systems to succeed!
– If you are looking for a great wage, and room for growth.
– We have Health and Dental benefits available after 3 months, so you can look after yourself and your loved ones.
– Yearly tool allowance, so you can keep your boots and hand tools in great shape!
– We are organized and communicate really well!
What we look for in team members.
– An enthusiastic attitude.
– A strong work ethic.
– Pride in high-quality work.
– Great team player.
– Some carpentry experience is an asset
– Must have reliable transportation.
– Notes
– Our work is mostly in the Ottawa area.
If you are interested email me at Steph@factumbuilders.ca
You can also check out our website at factumbuilders.ca
our Instagram @factumbuilders
Thanks for your interest!
View original article here Source