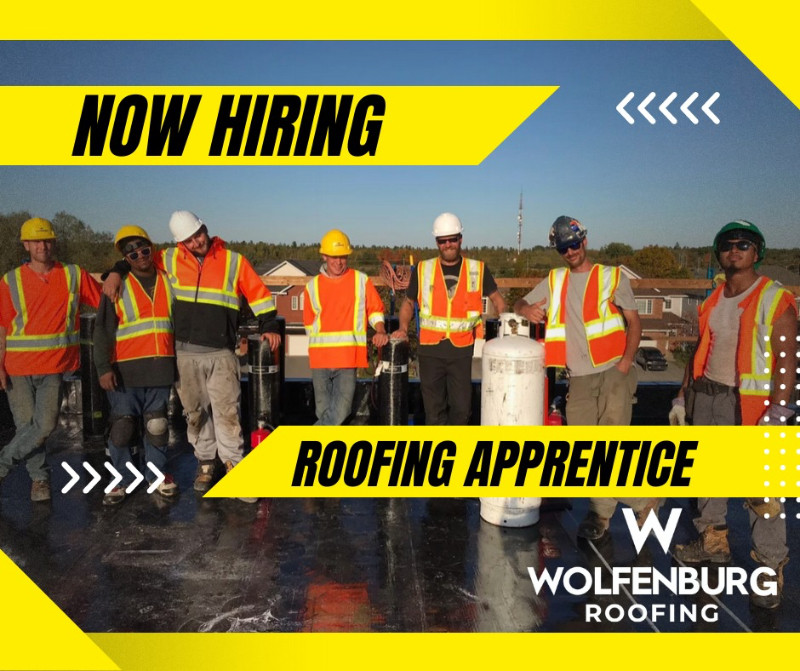 WOLFENBURG FLAT ROOFING IS HIRING
Starting Wage: 25$/hr + Benefits + Pension
TEXT if interested 613-707-4316
We are seeking a motivated and eager-to-learn Flat Roofing Apprentice to join our team. As a Flat Roofing Apprentice, you will work alongside experienced technicians to learn the skills necessary for installing, repairing, and maintaining flat roofs on commercial and residential buildings.
Responsibilities:
✓Assist in the installation, repair, and maintenance of flat roofs.
✓Learn to identify and troubleshoot roofing problems, and provide recommendations for repair or replacement.
✓Help measure and cut roofing materials to fit around vents, chimneys, walls, and other obstacles.
✓Assist in the application of waterproof coatings, sealants, and adhesives to protect and repair roofs.
✓Follow safety procedures to prevent accidents and ensure a safe work environment.
Requirements:
✓Transportation to work
✓Strong work ethic and desire to learn.
✓Willingness to work outdoors in various weather conditions.
✓Ability to lift heavy materials and equipment.
✓Good communication skills and ability to work in a team environment.
We are committed to providing our Flat Roofing Apprentice with the knowledge and skills necessary for a successful career in the roofing industry.
If you are a hardworking individual with a desire to learn and grow, we encourage you to apply. We offer competitive pay, on-the-job training, and opportunities for career advancement
25$/hr + Benefits + Growth Opportunities
Email or TEXT if interested 613-707-4316
View original article here Source