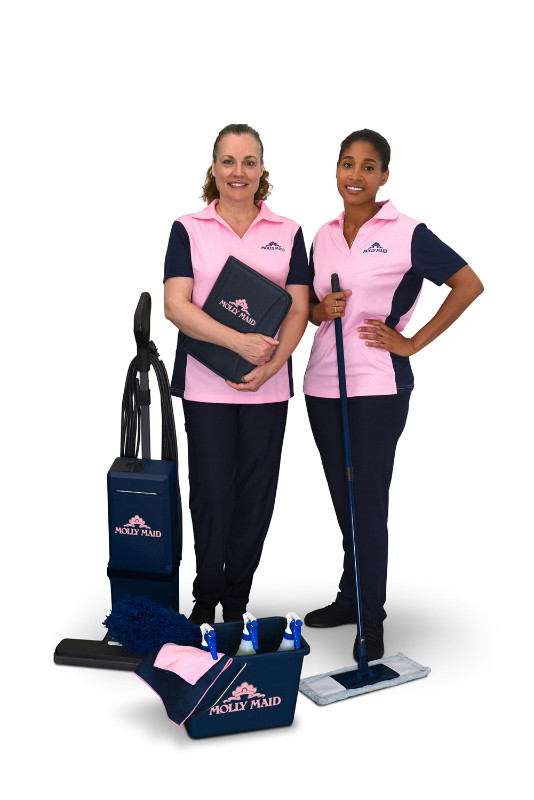 Our team is growing! You too could be part of this amazing group of Home Service Professionals and become part of MOLLY MAID – Canada's Best Cleaning Company. Our team members clean using the new guidelines of the Healthy Home Cleaning System – these protocols were introduced to keep our team members and customers safe during COVID-19.
Other great news? If you have your licence and become a Route Manager, you could get access to a company car 24/7. We pay for insurance and your mileage during the work day, you need only worry about the gas you use on your personal time.
Here are just a few other highlights of working with our team:
• Work Monday-Friday, day time hours. That's right! Your evenings and weekends are your own!
• Access to a company car for Route Managers. Pick up and drop off at home for Route Assistants that live in our service area.
• We provide an opportunity for growth, moving from Assistant Manager to Route Manager with opportunities
• Work independently in a team of two – we put trust in our teams to get the job done!
• Potential to earn up to $21 per hour.
• No need to stress over what to wear – our team uniforms take a little pressure off of your morning routine.
• Oh, and you can cancel your gym membership, you're going to earn your steps in this role!
• We provide on-the-job training that you actually get paid $17/hr for
• We also understand that not all appointments can be done after hours, we work with you to give you the flexibility to take care of yourself and your family.
• We supply the necessary PPE for all cleaning, keeping you and our customers safe.
What a strong team member looks like:
• You like to work and take pride in doing the best job for the best cleaning brand in Canada.
• Your friendly manner and professional attitude make team members and customers alike want to work with you.
• Hard work is what you live for.
• You want to work between 30 and 35 hours per week.
• Valid and current Driver's Licence
• Have a clean criminal record check
Previous cleaning, housekeeping, hotel cleaning/housekeeping, room attendant, residential cleaning/housekeeping, office cleaning, commercial cleaning or general cleaning/housekeeping experience is an asset however, not required.
Sound like a job for you? If so, apply today and join our team of cleaning and housekeeping professionals! You'll be glad you did!
About MOLLY MAID Canada:
Founded in Canada in 1979, MOLLY MAID is one of the world's largest professional home cleaning services, completing over 2 million residential cleans every year worldwide. We offer our customers a flexible and personalized cleaning service at an affordable price, based on a free, no-obligation, in-home estimate.
View original article here Source