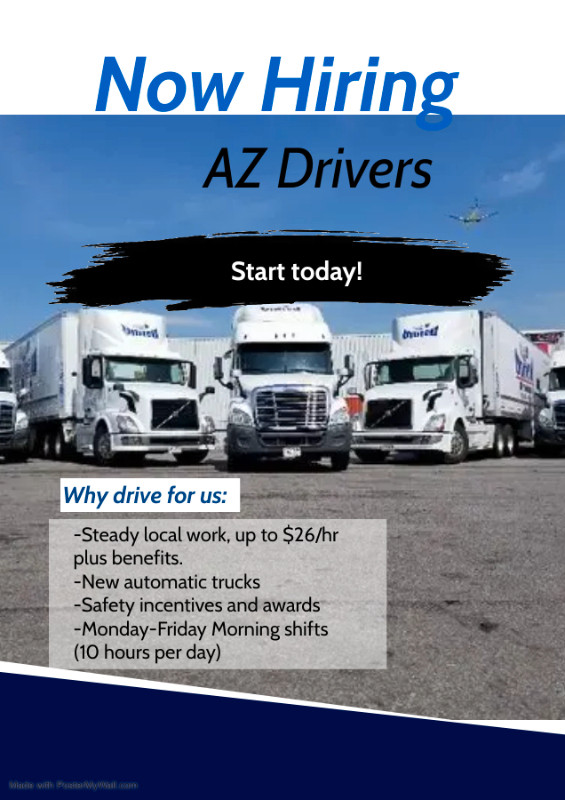 Company Profile
We are a well-established company engaged in freight transportation industry located in Mississauga, and has been providing freight services to well-known corporate companies/institutions. The company has been growing its operations and with diversification of companies to real estate industry over the last few years at alarming rate, will continue to grow and diversify its operations in the future.
Are you a licensed AZ Driver looking for local runs in Mississauga? We have just the opportunity for you.
As a United driver, you will be responsible for transporting client shipments safely and in a timely manner throughout the GTA.
Driver responsibilities:
• Perform tailgate pick ups and deliveries to customers
• Operate company equipment including tractor trailer, pump truck, etc.
• Conduct inspection of vehicle for safety and mechanical issues
• Immediately report defects/safety issues/maintenance needs, accidents or violations
• Document and log work/rest periods in accordance with regulatory requirements and/or company policies.
• Comply with Provincial laws/ regulations as well as with company policies and procedures
• Collect and verify delivery instructions and shipment manifest
• Hand bombing when required
Driver Qualifications:
• Must have 1.5 years previous commercial insured driving experience (with AZ license)
• Possess Valid AZ Driver's License and clean driving record (CVOR and abstract required)
• Strong knowledge of the GTA
• Communication and organizational skills highly preferred
• Ability to multi-task with attention to detail
More information:
• This position is full time, permanent
• Monday-Friday work week, Morning start time
• We offer fully paid training and competitive wages ($24-26/hr on payroll)
• Benefit package offered after probation period
If interested please send a copy of your Resume, CVOR and Abstract to Brittney- brittney.ward@mugoc.ca
View original article here Source