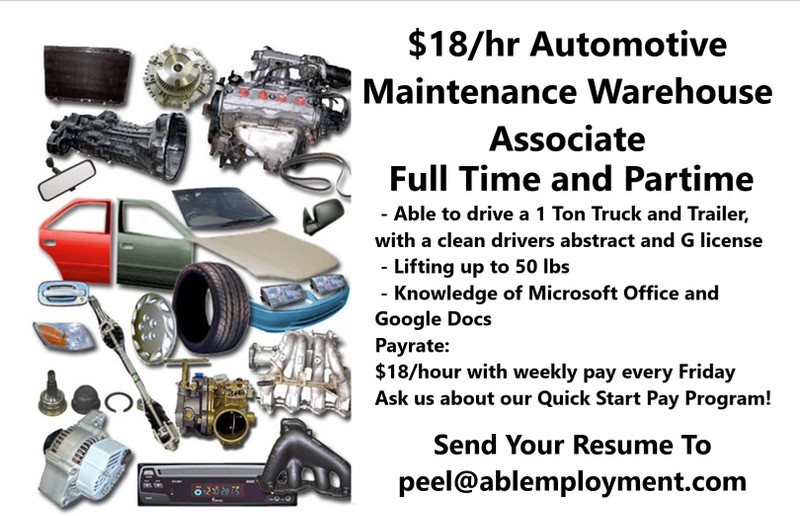 Must be able to work 40 hours on SIN!
If you're a car enthusiast who knows about the ins and outs of a vehicle or you have a car technician background, this job is right for you! This job involves minor maintenance work on varies types of vehicles and general labour duties in a warehouse.
You would be going through spools of cabling that needs to be cleaned and looked at for rip and tares, engine maintenance, and other general labor duties. Must be able to lift up to 50 lbs!
Job Description:
– Minor technical repairs of equipment
– Coordinating maintenance of all vehicles, trailers, motors, small electronic tools, ATV's, snowmobiles, PEM equipment, forklifts
– Maintaining all necessary permits/certificates in order to ship Dangerous Goods and adhere to current regulations
– Ensuring there is an adequate supply of new stock & supplies as well as maintaining old stock
– Ordering pickups and deliveries with carriers and preparing documentation and labels
– Order packing, shipping and receiving
Requirements:
– Able to drive a 1 Ton Truck and Trailer, with a clean drivers abstract and G license
– Lifting up to 50 lbs
– Knowledge of Microsoft Office and Google Docs
Payrate:
$18/hour with weekly pay every Friday
Ask us about our Quick Start Pay Program!
Shift Schedule:
This is a Part time or Full time opportunity!
If you're looking for Part Time work, the shift schedule will look like – Monday to Wednesday with flexible hours between 9am-5pm or 8am – 4pm or 8:30am – 4:30pm.
If you're looking a Full Time opportunity, the shift schedule will be – Monday to Friday with hours between 9am-5pm or 8am – 4pm or 8:30am – 4:30pm. Definite shift time will be determined during the hiring process.
Location:
Mississauga, ON – Mississauga Road/Derry Road
Apply now!
To apply for this position, please reply to this posting with a copy of your resume OR e-mail your resume to peel@ablemployment.com and mention job #22588. This will create a unique file for you in our system and a survey will be emailed out to you. Once it is complete we will contact you.
___________________
Don't forget to 'LIKE US' on Facebook by visiting www.facebook.com/ablemployment To hear about upcoming job postings and important payroll or safety updates!!!
View original article here Source