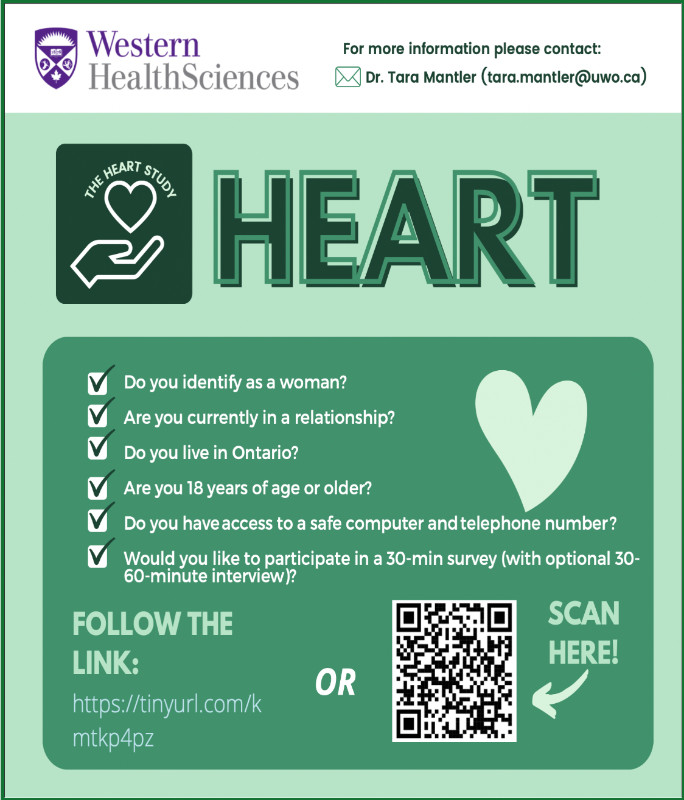 Are you an Ontario woman in a relationship? We invite you to participate in a study investigating the impact of a self-compassion intervention on the self-compassion, resilience, mental health, and mental health service utilization of Ontario women in relationships.
Participation in this study is voluntary and anonymous. If you are interested and agree to participate, you would be asked to complete a 25-30 minute online survey.
Upon completion of each survey, you will receive a $5 honorarium (provided via Amazon e-gift-card) to recognize your time and contributions. Surveys will be made available at four timepoints: baseline, immediately post-intervention, 3-months post-intervention, and 6-months post-intervention. 
If you have any questions regarding this study or would like additional information to assist you in reaching a decision about participation, please contact Dr. Tara Mantler (tara.mantler@uwo.ca). 
Click here to get started.
View original article here Source