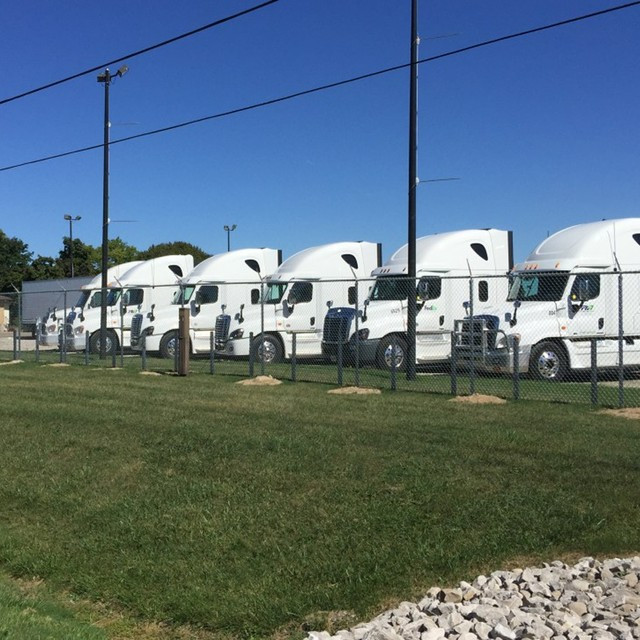 Avez-vous entendu les nouvelles ? Nous agrandissons notre équipe ! Nous sommes présentement à la recherche des cammionneurs pour se joindre à notre entreprise dynamique en pleine croissance ! Nous recherchons actuellement des cammionneurs d'équipe sûrs et fiables pour nos tours à Montréal. Nos trajets incluent le terminal à terminal, le fret sans contact et «pin to pin» (épingle à épingle). Tous les mille ce sont canadiens, pas de passage frontalier !
À PROPOS DE NOUS :
P & N Trucking Services LTD. est une entreprise canadienne de transport et de logistique avec plus de 30 ans d'expérience, avec une spécialité dans les fourgons secs Tridem & le fret général. Nous sommes une entreprise axée sur les personnes, qui sont fières de fournir un service client exceptionnel et des livraisons rapides. Nous offrons également un transport d'une côte à l'autre 24 jours sur 7.
POURQUOI TRAVAILLER AVEC NOUS ?
-Forfaits salariaux compétitifs comprenant le kilométrage + les «drops & hooks» (Deposer + Cueillir les remorques)
-Avantages sociaux compétitifs après 90 jours
-Faire partie d'une entreprise en pleine croissance et dynamique
-Poste permanent avec l'opportunité de croissance au sein de notre entreprise
-Tenue décontractée et culture de travail positive
-Les uniformes sont fournis, donc vous n'avez jamais à vous soucier de quoi porter pour travailler
-Stationnement sur place
-Le meilleur équipement contemporain
-Camion assigné, sièges antidérapants
-Formation à la sécurité à jour fournie avec toutes les dernières technologies
-Temps régulier à la maison
À PROPOS DU RÔLE :
NOTRE MEMBRE D'ÉQUIPE IDÉAL SERAIT :
-Passionné par l'industrie du transport et de la logistique
-Avoir une attitude positive
-Avoir la volonté d'apprendre et de s'améliorer
-Anglais, écrit et parlé (obligatoire)
-Français, écrit et parlé (un atout)
*Les équipes mariées sont les bienvenues !
QUALIFICATIONS :
-Expérience antérieure en logistique et/ou dans l'industrie du transport
-Connaissance et compréhension géographiques
-L'expérience de travail avec les programmes E-Logs (de l'expérience avec PeopleNet serait un atout)
-Compréhension de la réglementation des Heures de Service et de la réglementation MTO
-Compétences avancées en gestion du temps et en organisation
-1 an d'expérience vérifiable
-Carte FAST (ou vérification des antécédents équivalente)
-Dossier de conduite sans infraction/valide
-Au moins 2 références excellentes
POSTULER
ID de référence : Camionneurs D'équipe – Montréal, QC
Type d'emploi : Temps plein, permanent
Date de début d'emploi : Immédiatement
Éducation : École secondaire (préféré)
*Ce poste est disponible uniquement pour les résidents canadiens. Nous vous remercions pour votre compréhension. Les candidats intéressés sont priés de soumettre leur CV. Nous remercions tous ceux qui ont postulé, mais seuls les candidats retenus seront contactés. Les réponses sans CV ne seront pas prises en compte.
DÉCLARATION DE L'EMPLOYEUR SUR L'ÉGALITÉ DES CHANCES
P & N est fière d'être un employeur garantissant l'égalité des chances. Nous nous engageons à apprendre tout au long de la vie et à cultiver un environnement inclusif, diversifié, sûr et accueillant pour notre personnel et nos clients. Nous ne discriminons pas la candidature de tous les candidats en fonction de l'origine ethnique, du sexe, de l'identité de genre, de l'orientation sexuelle, de l'âge, de la religion, des handicaps et d'autres caractéristiques légalement protégées.
Nous encourageons une politique de tolérance zéro en ce qui concerne la discrimination et les discours de haine de toute nature basés sur l'origine ethnique, le sexe, l'identité de genre, l'orientation sexuelle, l'âge, la religion, les handicaps ou d'autres caractéristiques légalement protégées, sur notre lieu de travail.
L'Équipe P & N
***
Have you heard the news? We are expanding our team! We are currently looking for drivers to join our growing, dynamic company! We are currently looking for safe, reliable team drivers for our Montreal runs. Our runs include terminal to terminal, no-touch freight and pin to pin. All Canadian miles, no border crossing!
ABOUT US:
P & N Trucking Services LTD. is a Canadian transportation & logistics company with over 30+ years of experience, with a specialty in Tridem Dry Van & General Freight. We are a people-first company that prides ourselves on delivering exceptional customer service and timely deliveries. We also offer 24/7 coast-to-coast transportation.
WHY WORK WITH US?
-Competitive pay packages including mileage + drops & hooks
-Competitive benefits packages after 90 days
-Be a part of a growing & dynamic company
-Permanent role with the opportunity for growth
-Casual dress & positive work culture
-Uniforms are provided, so you never have to worry about what to wear to work
-On-site parking
-The best contemporary equipment
-Assigned tractor, no-slip seating
-Up-to-date safety training provided with all the latest technology
-Regular home time
ABOUT THE ROLE:
OUR IDEAL TEAM MEMBER WOULD BE:
-Passionate about the transportation and logistics industry
-Possess a positive attitude
-Have a willingness to learn and improve
-English, written & spoken (required)
-French, written & spoken (an asset)
*Married teams are welcome!
QUALIFICATIONS:
-Previous experience in Logistics or Dispatch within the Transportation industry
-Geographic knowledge and understanding
-Experience working with E-Logs programs (PeopleNet experience would be an asset)
-Understanding of Hours of Service and MTO regulations
-Advanced time management and organizational skills
-1-year of verifiable experience
-FAST card (or equivalent background check)
-Clean abstract
-At least 2 excellent references
TO APPLY
Reference ID: Team Drivers- Montreal, QC
Job Type: Full-Time, Permanent
Job Start Date: Immediately
Education: High school (preferred)
*This position is only available to Canadian residents. We thank you for your understanding. Interested applicants are asked to submit their resumes. We thank all for applying, but only those in consideration will be contacted. Responses without resumes will be disregarded.
EQUAL OPPORTUNITY EMPLOYER STATEMENT
P & N is proudly an equal opportunity employer. We are committed to being life-long learners & cultivating an inclusive, diverse, safe, and welcoming environment for both our staff & clients. We do not discriminate candidacy of all applicants based upon, ethnicity, gender, gender identity, sexual orientation, age, religion, disabilities and other legally protected characteristics.
We foster a zero-tolerance policy in regards to discrimination and hate speech of any kind based upon ethnicity, gender, gender identity, sexual orientation, age, religion disabilities or other legally protected characteristics, in our workplace.
P & N Team
View original article here Source