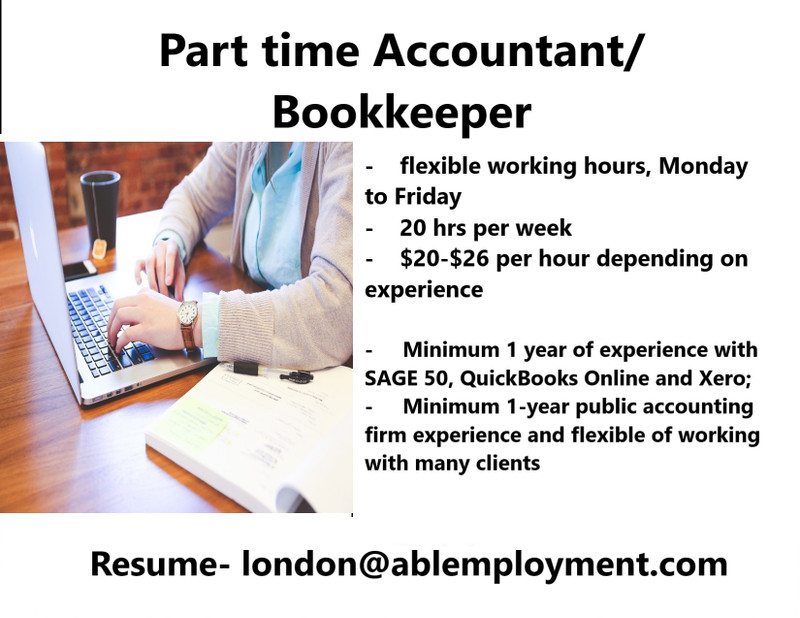 We are looking for a part time accountant/bookkeeper for our client. They are a professional chartered accountant firm located in London. This position is a direct hire by the client.
Responsibilities:
– Manage independently full-cycle monthly bookkeeping services utilizing QuickBooks Online for clients
– Manage reconciliations, monthly financial statements and other required reports
– Bank and credit card data input is also included
– Monthly Bank Reconciliations for all clients.
– Payroll entry and administration of annual slips
– Preparation and review of the books for month-, quarter-, and year-end financial reporting using QBO/Xero
– GST/ HST, WSIB calculation and remittance on a monthly, quarterly, and/or annual basis
– Preparation of Personal tax returns
Requirements:
– Minimum 1 year of experience with SAGE 50, QuickBooks Online and Xero;
– Minimum 1-year public accounting firm experience and flexible of working with many clients
– You have a minimum of 1 years of experience of full cycle bookkeeping for a variety of clients
– Extremely detail oriented and accurate
– Is organized and can set priorities
– A CPA designation is an asset.
Hours of work:
– flexible working hours, Monday to Friday
– 20 hrs per week
– $20-$26 per hour depending on experience
DON'T WAIT – APPLY NOW TO START ASAP!
Please respond to this posting with a copy of your resume and e-mail your resume to london@ablemployment.com – this creates a unique file for you in our system and helps speed up the hiring process
___________________
Don't forget to 'LIKE US' on Facebook by visiting www.facebook.com/ablemployment To hear about upcoming job postings and important payroll or safety updates!!!
View original article here Source