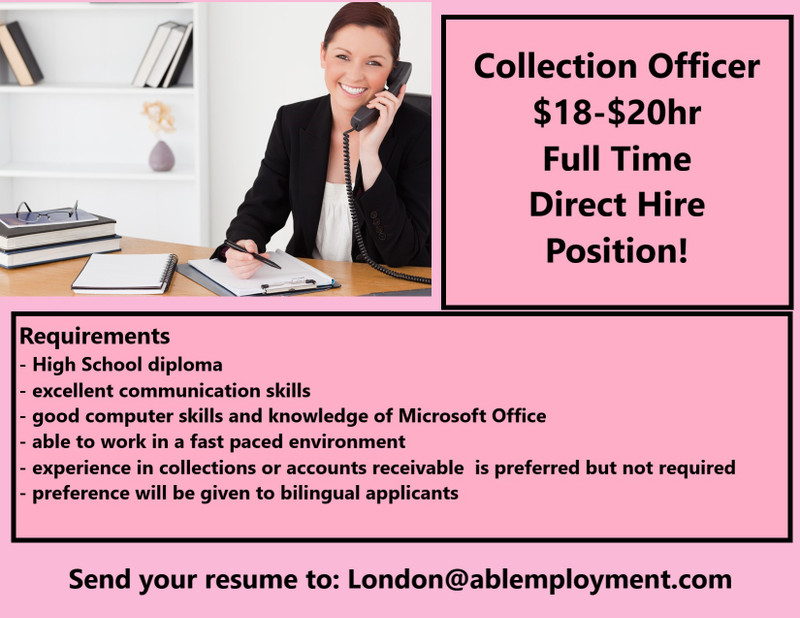 Our client is a local accounts receivable management company in London who is dedicated to superior service and performance. We have a direct hire position with this company – let us connect you with your career!
Perks:
-Pay rate ranging from $18-20 an hour (based on experience)
-Monday-Friday day shift from 8:30am-5pm (enjoy your evenings and weekends off!)
-Direct hire position (work full-time!)
-Transit accessible!
Duties:
-Collecting of non-legal and legal files
-Correspondence with client's
-Processing payments
-Claims solicitation
Requirements:
-High School diploma
-Experience in collections/accounts receivable
-Excellent English communication skills
-Computer skills and knowledge of Microsoft Office
Apply today! We have immediate openings.
Please apply to this posting with a copy of your resume or email your resume to london@ablemployment.com and mention job #22116.
___________________
Don't forget to 'LIKE US' on Facebook by visiting www.facebook.com/ablemployment To hear about upcoming job postings and important payroll or safety updates!!!
View original article here Source