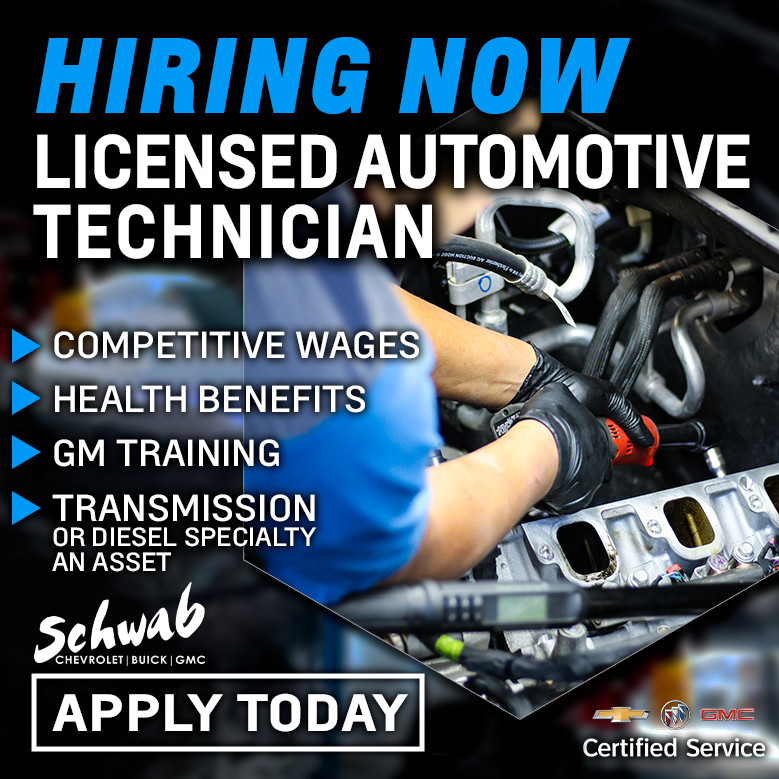 We are searching for a top quality Red Seal Journeyman/Journeywoman Automotive Technician with General Motors (GM) experience. Our shop is friendly, exciting, and a collaborative work environment. Family owned & operated for over 30 years; Our dealership has an attractive inventory of new, used, and fleet vehicles that will benefit a technician who is ready to max out their potential.
We are searching for the best and brightest to add to our team; Someone with experience in GM training and products but not limited to just that.
What a GM Journeyman/Journeywoman Technician does:
Diagnosis and Repairs of GM and Off Brand Vehicles.
Ensures Mechanical Compliance of all Vehicles
Delivers Quality Workmanship above all else.
Brings a Positive and Enthusiastic Personality to the Dealership
Follows Best Practices, Compliance, and Regulations of your Trade!
What a GM Journeyman/Journeywoman Technician brings:
Valid Journeyman/Journeywoman Certificate with Red Seal or Equivalent "Fit it RIGHT the first time" Approach
Top-notch Professionalism and Attitude to exceed Customer Expectation
Strong Interpersonal Communications Skills
GM Experience, with a demonstrable record of success
An Ability to Work with Teams or Independently
Valid Class 5 Driver's license
Please send your resume to Service Manager Shawn Simms or Call 780-986-2277 to set up an interview.
Job Types: Full-time, Permanent
Starting From $35.00 per hour
Benefits:
Dental care
Extended health care
On-site parking
Paid time off
Store discount
Vision care
Class 5 Licence (required)
Work Location: One location
View original article here Source