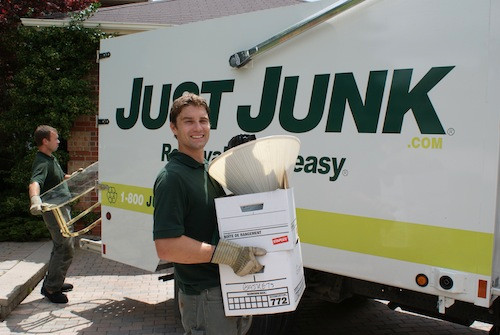 Do you love meeting people, working outdoors and staying in shape? As a JUSTJUNK® Truck Team Member you will love your job again. JUSTJUNK® has a company culture like no other. JUSTJUNK® is currently hiring Truck Team Members as we continue to grow into the largest junk removal company in Edmonton. Your role is to "Make Removal Easy" for our loyal customers by removing their items!
If you have what it takes to be a part of our growing team you can look forward to:
Great Compensation – Our Truck Team Members start at 18$- 20$ per hour , and can also earn performance BONUSES , generous TIPS and BENEFITS !
Amazing Work Environment – Work with a work friend on a daily basis. As the dynamic duo, you will rarely go to the same house twice and you get to see fresh faces daily. Every day is an exciting adventure!
Wild and Wacky Junk – It is amazing to see what people want to get rid of. You get to remove almost everything in this world. Enjoy the fun of removing some really cool junk.
Enhance Your Resume – You will receive specialized training, learn customer service skills and interact directly with your owner during weekly team meetings. We treat employees like family and value their feedback as we grow our business together.
Stay In Shape – It feels awesome to working outside and stay in shape through physical activity.
Full Time and Part Time Hours – Our business is booming and so are our work hours. We invest in our employees.
Growth – We are all about growth. As JUSTJUNK® Edmonton grows, we will make sure your role within the business grows. The sky is the limit!
Job Description:
Working at JUSTJUNK® is a lot of fun. You are in charge of selling the service to customers and putting smiles on the faces of your customers by "Making Removal Easy". The sense of relief your customers will feel is incredible.
You typically go to 6 – 8 homes or businesses each day and remove anything from anywhere. Your customer services skills are the secret to your success.
You are in charge of your own truck and how much money you make servicing customers. The harder you work the more you can make!
You will give back to the environment by recycling and donating items you remove from customer's locations.
Basic Requirements:
Have A Valid Driver's License and Clean Driving Record
Enjoy Working out
Have Great Verbal and Written Communication Skills
Do you have what it takes? We would LOVE to hear from you. Please reply with your resume and references.
The JUSTJUNK® Edmonton Team
Job Types: Full-time, Permanent, Part-time
Salary: $18.00-$20.00 per hour
Schedule: Monday to Friday
Weekend availability
Supplemental pay types:
Bonus pay
Overtime pay
Tips
COVID-19 considerations:
All staff adhere to COVID-19 protocols and are provided with : Masks, Gloves, & Sanitation Equipment) we also offer curb-side pickup for COVID safe removal.
View original article here Source