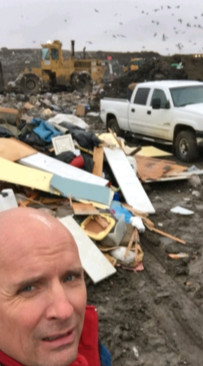 CASH AT END OF DAY work
RESUME CV IS REQUIRED
Text me if interested. (no calls)
I'm not going to lie. IF you are unskilled then this is crappy work. Loading dusty renovation debris into a dump trailer.
But… It's GOOD EXERCISE carrying debris up stairs. .
NO skills needed! I will take ANYONE.
I don't care if you s*m*o*k*e weird stuff or have piercings and tattoos all over your face. I don't care if you can't speak English.
It's UNSKILLED labor work.
You must be physically able to do hard work. You could take breaks off the clock in order to pace yourself.
I am typically driving from Morinville through St. Albert and then around Edmonton. So I could pick you up along my driving route. I can't pick you up anywhere else.
I typically will be working from 9:30 am to 5:30 PM approximately (hopefully not later because I don't like working or driving in the dark)
Pay is CASH at the end of the day. I pay $12-$15/hr CASH with no taxes or deductions for UNSKILLED workers. Pay rate is depending on how you're working and your attitude.
If you're looking for an actual job the pay might go up to $25/hr in the future.
I have a lot of work coming up in the future too.
SKILLED workers (electricians, carpenters, flooring installers, drywallers, roofers) could make between $20-$30 per hour cash.
CERTIFIED PLUMBERS with journeyman status could make $40-$50 per hour.
And if you need a place to live you can stay on my farm near St. Albert.
I almost ALWAYS work WITH you and I bring free snacks, drinks, and smokez
My name is Matt and my cell phone number to TEXT ONLY is 780-446-1122. No calls. TEXT only.
I will be asking for a resume CV. If you don't have one then go make one. There is free help to make resumes at the Bissel Center and other places like that.
If you do not have a resume I will NOT be dealing with you. You will need a resume with your job history, references, full name, etc. I don't just deal with people anonymously (for my own safety).
This is however a cash offer and it's paid at the end of the day. No need to claim this money.
View original article here Source