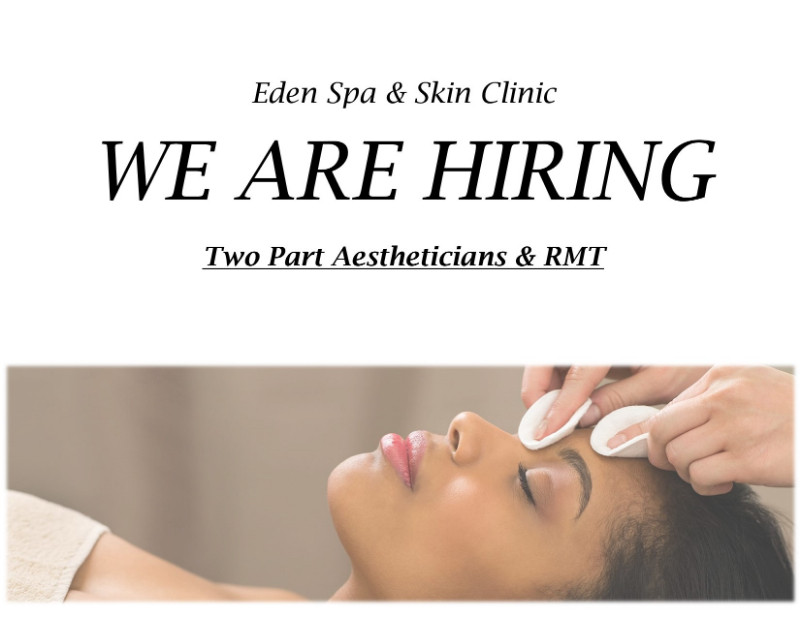 WE'RE HIRING!
Eden Spa & Skin Clinic is accepting applications for;
Certified Medical Esthetician/Estheticians and Registered Massage Therapist
Eden Spa is Your Head to Toe, One Stop Beauty Shop!
Offering facial treatments, hair and esthetic services such as pedicures and manicures, we are a fast paced spa priding ourselves in client satisfaction, team work and professionalism.
Part time and full time positions available, ranging from 5-8 hours/day.
What we are looking for;
Confidence to promote & recommend products and services, maximizing opportunities for sales and referrals
Positive attitude, excellent customer service skills, and work ethics Maintain a professional and clean work environment Ability to work in a fast-paced environment
Punctual, friendly, presentable and results-driven
Able to work flexible days and hours
Team player who is enthusiastic about their work, self-motivated and flexible
If you are interested in the positions, please send your email to eden.spaandskinclinic@gmail.com or stop by Eden Spa & Skin Clinic to meet us in person.
205-3505 52nd street SE (Erin Woods Plaza)
View original article here Source